Gossip girl here, your one and only source into the scandalous lives of Manhattan's elite… Just kidding tho, I'm no gossip girl but I do have the latest scoops on streetwear fashion. Unlike the "old" Gossip girl where most of it's fashion were rather chic and elegant with loads of headbands, *I'm looking at you Blair* the reboot incorporates a lot of streetwear into its casts outfits. The three characters that are usually spotted in streetwear are Julien, Aki and Zoya. The latest Gossip Girl remake includes diversity not only in its casting choices but also in terms of fashion, each character has their own unique fashion aesthetic and they simply rocked it.
Before we dive into and review the streetwear worn on the show, I would like to talk about how current streetwear clothing designers can use this as an inspo to create clothes based on the series. This would not only gain attention from fans but you will also attract so much more people as the clothes used in the series are simply to die for. A cute idea would be to have a showcase on the stairs of the Metropolitan Museum of Art .The stairs are an iconic assent to the series and having a clothing showcase there would just be super fun. To attract people there you can use a location maps for business. It's basically an interactive map and it's so easy to use. You can update the map before the show, during the show and the map would also allow you know your target audiences better this way you will know what marketing tactics to use.
Now that I have given you a business idea that you can use, here are the best Streetwear outfits worn by the casts of the Gossip Girl reboot:
Julien
Julien is an iconic style icon in the reboot of Gossip Girl. When she's not wearing shiny, elegant dressed you can find her looking fresh in boots and sneakers. Julien is able to put chic in street style with her own unique fashion sense. She's spotted wearing Nike's paired while carrying a Fendi bag. In one of the episodes Julien told Zoya that even though they all wear the same uniform, each one of them puts their own twist to it. Julien's way pf styling her uniform has surely stood out from the rest.
Julien is able to make anyone wish that they could wear their uniform the way she does. In the image below you can see her styling Zoya's scarf while wearing biker shorts along with an oversized white collared t-shirt.
Aki
His pink hair is just the tip of how unique his fashion style is. Sweet, lovable and one of the nicest friends of the group, Aki is able to get everyone's love. Based on the image you can see how Aki brings street style to formal wear, without it looking awkward and/or out of place. He's sitting on the stairs besides Max, eating his food. You can see that he is wearing a blazer, collared t-shirt, jeans and to complete his look he threw in a pair of plain white sneakers. His incorporation of streetwear into every event he goes too makes me want to find out where he buys his clothes from, they all look super cool!
Aki is one of the characters in Gossip Girl who is always in streetwear, and he is able to own everything he wears. From oversized hoodies, to sweaters and even plain white t-shirts, his looks are always on point. Aki is also always seen with a skateboard, which just makes him look so much more cooler. Can we all admit that Aki is a character from this series that is able to put the style in streetwear and he does it ever so effortlessly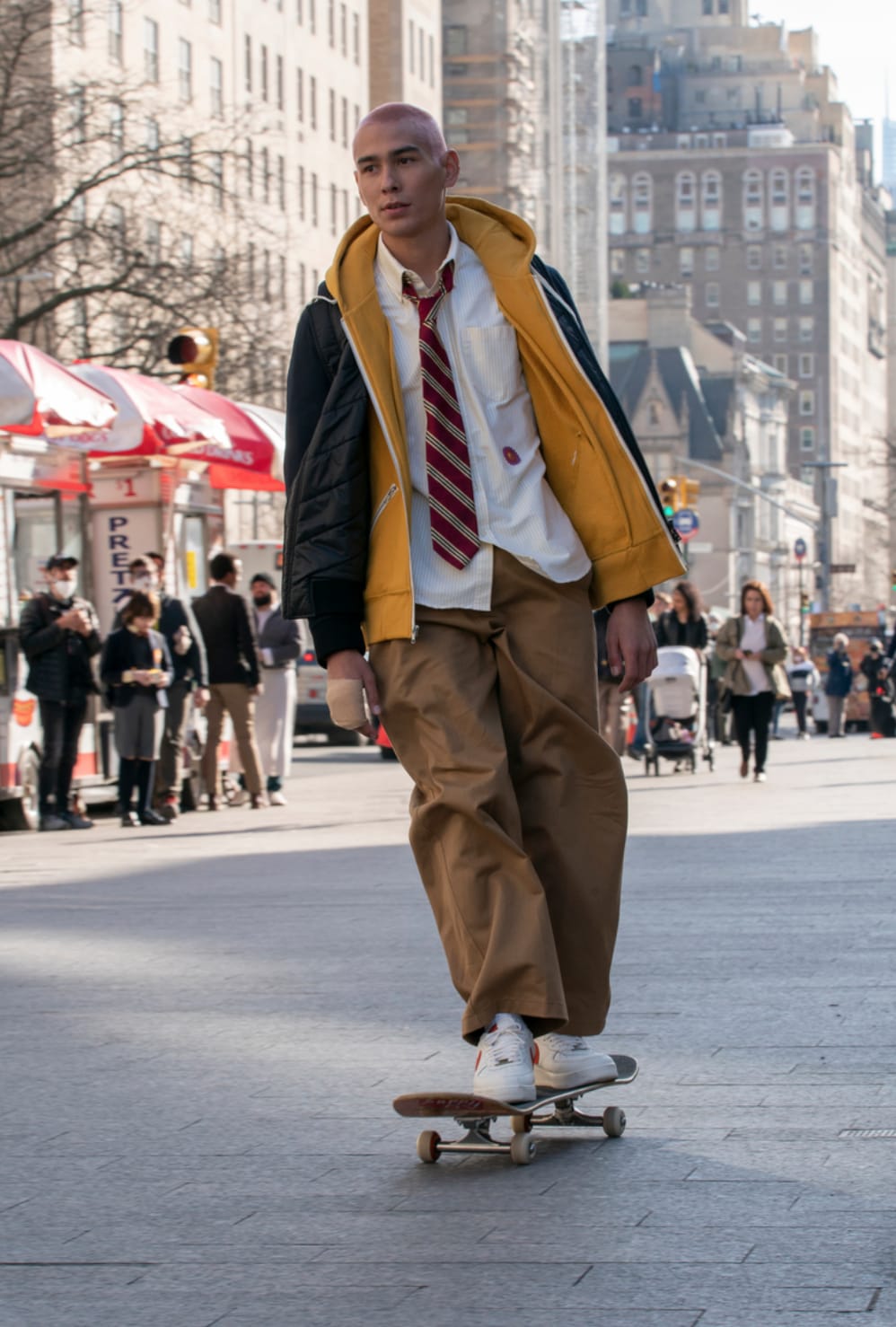 Zoya
Coming from a small town, Buffalo, Zoya finds herself caught in the middle of the drama between her and her stepsister Julien, Although she appears in a pinafore and headband in the first episode, we see her dress up more like herself in later episodes. With her choker, oversized sweaters, knitted cardigan, boots and knee high socks, what's there not to love about her style. She makes casual streetwear appear high-end. I'm sure we all wish we could look as good as her when we're trying to "keep it casual".
Zoya wears a lot of flannel through the series and she usually lets her curls go free and wild. But something that I absolutely love is the way she incorporate boots and sneakers with almost every single outfit. She takes comfortable looking outfits and makes them look cool and stylish. Unlike Aki who usually wears oversized clothes, Zoya layers her clothes and wears a mix of baggy and tight outfits to create her own style.